A Little beautiful Circulation of love in Puno
Saw a lady crying in the cathedral in Puno.

The cathedral in Puno was very beautiful with blue color n has pipe organ as well.
On the side there are some statues of virgen females with the candle lights.
( but not Maria, I wonder who they are...one of them is Carmen,who seems to be same as Mary or Maria) 

A elderly lady (60+ yrs old ?)  was praying n crying in front of the virgen.


A small kid (around 7 yrs old?)  was putting lights on candles. I couldn't recognize if that was for the lady or without  strong intention, but it looked nice & caring.

I just wanted to do something for her. I happened to have the box of so delicious ceviche n tacutacu that was the left one of my dinner.
I thought it's good to eat something very delicious when we feel sad, so I gave it to her by saying
"Tenga esto para cena"(Have it for dinner) with a little bit courage.
I felt happy that she received it saying "Muchas Gracias"
I hope her sadnesses will be healed bit by bit.
Later on I was walking around the town then found they are holding coffee festival!☕
I dropped at one stall selling nice cups of coffee n cappuccino n wondering if I would buy one or not.

Then a lady talked to me that she gonna treat me !!!😋
And she wanted to click a picture with me.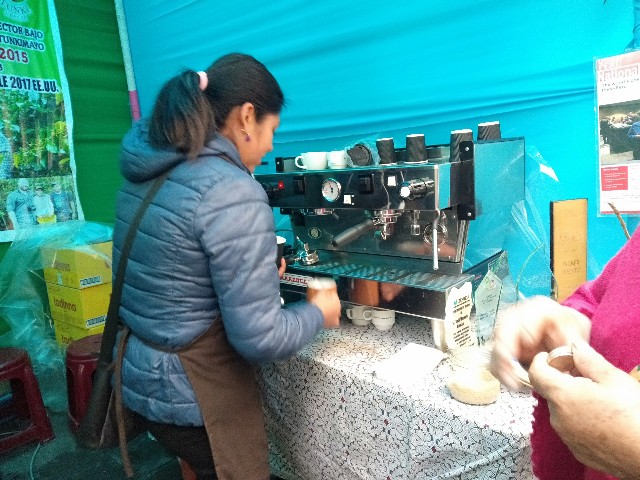 I felt so lucky,blessed n loved n the cappuccino was soooo delicious.😋

I gave a candy (what a little thing I had )for her. :)

I felt the small but precious beautiful circulation of love on that day. It reminded me that I'm a very lucky girl 😉

I would love to treat a cup of coffee and for a traveler someday :) , paying forward...😇